F.A.Q.
What are Agent1s?
Agent1s are program/software NFTs that start with NO form, they have randomly generated traits and behaviors. They gain visuals from your actions, tweets and contents in your wallet. You get your first reveal within 5 days from sell out / purchase (whichever is later), and Membership-access to the "The Backdoor" - where you can:
Polymorph your Agent1
Merge 2 Agent1s to create a Super Agent1 (One Agent1 is burned, returning to "The Source")
Contest other Agent1 Holders to win more Polymorphs.
Get Early Access to our 3D MetaVerse game.
With 3 or more Agent1s in your wallet, you can increase the frequency of your polymorphs, and get into the deeper levels of "The Backdoor".
How it works
Each Agent1 (they come in pairs), has its own behavior and strengths. They are all unique, with traits randomly generated. The Polymorphic Agent1 (the copy that you activate) will morph with your behavior, wallets and transactions. Every action you take, every message you tweet/retweet with #Agent1 or #A10001, will affect how it polymorphs for the project, until the upgrade date. From dots.. to 3D.

Oh.. and if you own a BAYC, Cryptopunk or the likes.. Enjoy the polymorph :)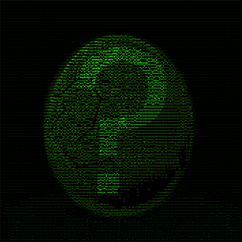 At Purchase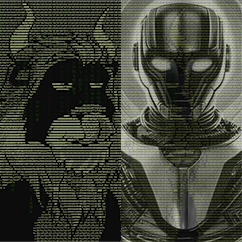 + 5 days
(generative based on wallet contents after sell out)

+ 5 polymorphs
(randomly based on actions)
I found an Easter Egg! How do I report my findings?
Easter eggs, codes and riddles are scattered throughout the project. Find them and earn rewards, NFTs, airdrops and Agent1 Points! We want to build a real utility & consumable NFT, that comes with way too much fun! By designing Agent1 NFT this way, it encourages more user trades (so you can morph your NFT), more publicity (morphing based on actions/tweets), NFT space building (Agent1s morph with the likeness of popular NFT projects), and simply a unique experience!
See more: Agent1 Code Hunter Game
What happens if my wallet is empty when getting an Agent1?
Wallets without popular NFTs, still has a chance of randomly morphing into a great one. You get a Rogue Agent1, whose stats are random to begin with, and MAY exceed those with popular NFTs in their wallet. You can play the Code-hunter game and engage here, on Twitter and Discord. All actions in our ecosystem makes your Agent1 polymorph to a greater one. You build and grow its value.
How can I get the best priced Agent1?
Retweet and tweet with hashtags #A10001, #Agent1s, or #AgentsUnite - and if you managed to get onto Discord, stay active and engaged there - invite friends in, support others etc. This will help lock you into a position on our whitelist for a great pre-sale opportunity. There will be rewards for our community like pre-sale admission, prizes and rare giveaway. So come and ask questions, and help others! Let's build the community together.
How many Agent1 should I get?
The more Agent1s you own, the higher your rank in JericVerse & the more game points/rewards/airdrops you receive.
A1 Holder - 1 Agent
A1 Sergeant - 5 Agents
A1 Officer - 10 Agents
A1 Lieutenant - 20 Agents
A1 Captain - 40 Agents
A1 Colonel - 80 Agents
A1 General -

160 Agents
The system heavily rewards Top 100 holders, Officers and early holders, for their support of the project. They deserve it!
What is the total supply and how are the NFTs released?
Each wallet can mint 20 times each time/transaction.
You can mint more after - a threshold helps everyone have a chance to collect what they genuinely want.
Maximum supply is 10,001. As holders merge 2 Agent1s into 1 Super Agent1s, the total supply MAY reduce as the Agent1s return to "The Source" in a process known as "burning".
NFTs will be released using a Sale-switch system, releasing a limited amount of Agent1 NFTs for each sale, followed by a Whitelist-only Sale. This helps the project during ETH all-time-high & bearish markets that are always disrupting the scene, and encourages organic growth. During a sale, the system checks remaining amount of NFTs every hour. If it hits a low threshold, a random 10-50 NFTs from the reserves is added to the sale. This is similar to an auction - when a bid is placed in the last 10min, the auction is extended by another 10min. This strategy can encourage sales, and allow more NFTs to be available to users who genuinely want to get the Agent1 NFTs.
What makes Agent1 special?
This project is part of a bigger project known as Moonlanders.game - this is a Metaverse Game that lets players to explore an out-of-this-world space. Each Agent1 NFT gets you a free entry ticket for the game!
Agent1s is designed to encourage collection, play and trades in the NFT space for artists, and collectors. Everyone gets to experience a fun concept. As of now, there is no other NFT project like this. When you get an Agent1, you become a part of the project, and are helping us build the Metaverse. Remember, we are still very early in the project.
We believe you will enjoy the project from day 1!
I minted. But why do I see a question mark and an egg-like image? What does it mean?
This is normal! Before revealing the final Agent1 NFT you get, you will see this placeholder image. You can review your AGENT1 NFT at The Backdoor.
Where do I view my Agent1 NFT after I purchased or mint it?
You can view them on Opensea or Looksrare. Of course, you will need to login with your Metamask wallet.
How do I mint and how long do I have to wait?
Head to the minting homepage and click the red button that says: Mint
It takes up to 2 minutes to mint, depending on the number of NFTs you purchased. This process takes some time because they are created and will be forever injected into the Ethereum blockchain, to your wallet!