oooooo22222vttJZv22vvvvooYuQQXX4XX4X44XXXwuuYuzcjduYYvvdYooooXvdoooo2XoYYuV?"`= =?VQgmX2222222oo2o2oo2222ooooo2o2v2ooYYYoo2222o22222222222odv263vvv266o222Y6xvdo2 vv2vvv2vvxtJ[email protected]@@@#@@@@n |1= ==+,, ="NqggdXoo2o2ooo2vv2vvxd63ddddXuuYYuYv2dYoo222222222o2oYvxddXdvvvvvvd2vvvYoo TTjJjjjtJjjTT1xdUOmsv!!!v!cvjzzv3J33duw5uY2vJjuudPYYYYYoYYooooYYYYYYdXum|[email protected]!= ,uuv"1+ ==v= |[email protected],,,[email protected] [email protected];+||||a#[email protected]` =33VVVVV1:. . J; : .., [email protected]@@@@@@a "9WQduYYYoo222oY6xx36vvdYo6Zdd6Yo6vvduYoY [email protected]@[email protected]||vjzzcixoYoo2oo!z3dX55PPuuuuuu63ddggW#M!= , aygggggggya; | =. = =j @a |, ===9Ww ,[email protected]@@a .2q,2NQgYY6oooo2oY6XXdxxxtxd36Zd6oxv2xv33 WOOQQuYo222XsTx0MQ#[email protected];j|+++|3333doYoXdnv33jJddXw555wdQY!= "` Ja ="1? 3 = 0a h 0m |;, [email protected], ,??a,[email protected] |;.9g ?QguYYooo2d6Zv30uuuYYXdddovxdYYoXd [email protected]#[email protected]@@6|23V3vaadnjdwwXQ!0ojvdPQQ4Q4QUY` [email protected]@@@P"= a?"`== == = @Q = [email protected] =Qj [email protected]#WO==a, `,J? JQ. @q 3#XYYYYu6tddddtJtxvvv3Y6x2636ooY ggduuuuYYuu5ddY0N#[email protected]@mUmj++:agH0e20wwwQ6;jQ||gduv0QY+,[email protected]@@@@@@#9+ J99' [email protected],,[email protected] ,[email protected]%n 2G=.= [email protected] 2q [email protected] [email protected] [email protected]@@HVv;|jg#D1JQj|3VVv;;;jmu|0mwdQa#@[email protected]@@#9+ = 3Qy [email protected] [email protected]|a [email protected] 3n .g 0GJQ JQa QG @pJQwuuXddXdJJJd6xxvduXxvo633uYY DQgyd333u3vs330Q##@dQqQ#@[email protected]@Hj|[email protected];:+j|;jjj3Xjv3#@[email protected]@[email protected]#9 ,; [email protected] 0Q [email protected]@p @@;JW;[email protected] @pJ% @.JH @ 3#QV3X23uPuuXvxvYoYvvdXdvxttZ [email protected]@[email protected]##[email protected]@#@[email protected]@@@@#[email protected];;[email protected]@! j++j|;2"""= "n [email protected] @m @ @p [email protected] '@K =QeJQ L @, " J#QvdXdZtZZxXvZdu66vvvd3Yuuu0 jgyuu331+:|aw+|[email protected]@@[email protected]####@#mojj:|[email protected]+|6;|[email protected]#P = aj, Q [email protected] K [email protected] [email protected] JD [email protected]$ [email protected] . JD+auYYuXudd6ZxuuXxv2XdvttttZ [email protected]##HQggg#B:=jn|[email protected]@#@##[email protected]@@#[email protected]@Qdm;0+|;jaaw2m6uP6qg#9! "9Qq, 3p [email protected] 0. = @' [email protected]#= [email protected] Q: @@ .; 9;=uuYYYYYu6ZxdY6ZvZd633uYuYX ::|91312?1|[email protected]#@#m|J#[email protected]#v;dQHuuudQMNQ#@8T|;||33g#P^ ,,,,,, .9Q, J% @m + @. [email protected] D' [email protected] @! H" JtJuuuYuu66vxvYY6xxdYXdvxxxxx ja+;++=|az|0#wzd##[email protected]@##@@#NQ##@[email protected]@[email protected]+||jQmqgg#! .= ,2""`= = .. 0n b @; @I @! JR JP | #+JH,J J$JwuYuYYXdtxxd626xx33YYuXdddY [email protected]@[email protected][email protected]@@@@#Y:||j:|[email protected]@@[email protected]@@[email protected]#[email protected]#9 .HP =^ = . |c s G JK @[email protected]! V!:J7 Jd!.#! JDJX5uuuuYuuYu66222XdvvxxxZxvv2 +||[email protected]:[email protected]@yz|+:|aHD1+|@maaagyyyv|||[email protected]@[email protected]#! J#! = ,= : JD d8! JY^ ;` =+.#! dSa45uPuuuYYo2222ooooooYYoo2vvvv yudXd8:[email protected],,|Q:2121===,:::|0QyaygygD [email protected] JH9" . 1` J? ,Ja8" . .+,dQXX5wuuYYYooo2o22o2oo22o2oooo2 [email protected]@#6uj3X|||[email protected]@Qya,[email protected]@@@@@@@e,|vgD [email protected]#+ #9= z Jm J"= X [email protected] @Wyaaaz,=Y9Q||0yx=,;,|@@[email protected]@[email protected]= @@B JP J#! z= [email protected]@@@@@@@@@@@@@@@@@@@@@@@@@@@H; =,a#@WW9vjd46jJddYo22d663362o22oo2222o [email protected],2Qg|2NQayVg,,|[email protected]@@@#D:`=J#TdgU' @@D J+ H9" 7= [email protected]@@@@@@@@@@@@@@@@@@@@@@@@@@@@@@@@@@#[email protected] .=||jjdUViiddVXv3xd63txddooo2222o222 ,,=2NQaJV;[email protected]=2m:|[email protected]+|[email protected]@gD:JKJqL [email protected] .#! Jf , aD [email protected]@@@@@@@[email protected]@@@@@@@@@@@@@@@@@@@@@@@@@#@;@@m ,,[email protected]@Q4XQuudXXJJJxxxJdXJtd6622ooooooo2o ==,,=|@:|d%[email protected]@@a::[email protected]:[email protected] @P JF [email protected] @@E m|@@@@@@@@@@g, [email protected]@@@@@@@@@@@@@@@@@@@@@@@[email protected]@ J#@aJQQ5wJt3XdPXxxxtd6JtZ6ZZxvvd6xx2o22 ,,[email protected]:|3QQy,[email protected];[email protected]@@@[email protected]@[email protected]# J#+ d! .= z [email protected]@K @@D @[email protected]@@@@@@@@@@@@, [email protected]@@@@@@@@@@@@@@@@@@@@HdJ|#@G @@@mJXV6dddQVJtxvdd66tZduuuXdXdddxZvXd 9999"+:[email protected]@Qg#%yv+=K,=,[email protected]@[email protected] . V' .= [email protected]@= @@: @D @@@@@@@@@@@@@@D" [email protected]@@@@@@@@@@@@@@@@@@@@@KJJ#@@[email protected] Qg.=w28qa2%a=====ggqa,. [email protected];`==,[email protected]@@l JD+ = [email protected]@@Q @@ [email protected][email protected]@@@@@@@@@@@@@@;[email protected]@@@@@@@@@@@@@@@@@@@@@@HJ3#@G Q#ma6VVOQXwddd6jJttdddXXdxZtJJttduYod .JQaJ%=.3%adNy,,[email protected]#@@ga,.29qa99=JKdkkQc K [email protected]@@@[email protected]@c0#[email protected]@@@@@@@@@@@@@@,[email protected]@@@@@@@@@@@@@@@@@@@@@@#@[email protected]#=0#QOjtduTi33jjd055VjdV3YuuuuPXxxddPV6 @p [email protected],[email protected]:[email protected],=,,[email protected][email protected]: @K J" + a= [email protected]@@@@@m##[email protected]#R|[email protected]@@@@@@@@@@@@@@@[email protected]@@@@@@@@@@@@#[email protected]@@@@@@@#[email protected]@LJRXddQOQQddXdtJudViJdddjJ3336JJdV3jdd TJ%,,@K2Q,.0qK:2Q#@Ny,@m===d+'''''=JK=V?Qg; @K z a" J7 [email protected]@@@@@##@@[email protected]@[email protected]@@@@@@@@@@@@@@@p |@@[email protected]@@@@@@@t @@#[email protected]@@@#@[email protected]#@ QmdduuTT3XJjJd5QdjdV305XuXXdZdPYdYu6 j,[email protected]@q,@ZNgyaaJ#[email protected]@yaP'''=,[email protected]@@8N% @a+ + Z'[email protected]@[email protected]#@KNQ%[email protected]@t [email protected]@@@@@@@@@@@@@@@@@p [email protected]@[email protected]@#9 @#9 ,@@@@@@[email protected]@@[email protected] =+|;zQqya,[email protected][email protected]#[email protected] ` =+ 2" [email protected]#v|[email protected]@@@[email protected]@@@@@@@@@@@@@@@@@@@p '[email protected]@[email protected]' dP @@@@@@@@@@@@.|#XXj3jjJjiPPu6JdV0QQXdduXdXdoooYX6 [email protected]@@gY=J%aJJ#!.'''.J$.'..''[email protected]=JQQQc : [email protected]@[email protected]|dQR%[email protected]@@@@@@@@@@@@@@@@@@@@@[email protected]@@@[email protected],[email protected]@@@@@@@@@@@#^JHXXXQddXidPV6JdddJiiiiid36dYoo2P6J |NNqyjagJ#NMN99+ ,==j=0Qa,,,[email protected]''..J#5==|3dgK 2#@@@@@@[email protected]@@#@@@@#9":, =""""""""""""""""""1""""""""?""""""+=+" @@QXQdQ6TdX6jttJ3005Xd6PXXdYoo2dQJJ aa|@99s,,,,J,ag#@[email protected][email protected]#[email protected]@@QE JJ = === =2999= g#9= ##[email protected]#@I Q4dO3Jid6ttttZdjiiiijj36uYuo2dUJJ a?=,aaav39",gV"= ,J2` Qy,p0p=`=,J..' ,,;=ggg#P i J#@@@@, [email protected]@@Ka#QyJ ;0=dV! J+ J#S, = JkQudjduXxxZtdQQXwXXddddYYoodVidP ,3NQuz2V=,@[email protected]^ ,JD= g.0y,a!,JMQa =,[email protected]! [email protected]=dP c [email protected] ##[email protected]@#@[email protected]@p U|@[email protected] JhXXXmdd5XvZtJjid333VV3xuuXdVjdP6 [email protected]=Nsa#!,aY"|dF ,[email protected],[email protected] ,JaB` am3Q# H?+ = DaH=J#!,. @p1y, f @#@[email protected]#dgl#QK |= U!,[email protected]#P= JhXXXXtdw6ooY0uuXddttttJ26JjJdd62 q,[email protected]#`,d81Qa#+ dK [email protected],.|[email protected]"= [email protected]@#dga = @[email protected] [email protected]@m. c [email protected]@@[email protected] , ' #[email protected]@g [email protected] = JQXXXwddO2o22duV6d66oooYXdddd6622 JQwJW|[email protected], #' g;,g#=JKJ9NQaWF.=3m =||3W = @[email protected] [email protected]#@@@[email protected]@m ' JQ#[email protected]@G : 28+ [email protected]@y Q J: dQXXXQdQ2o22dVxv2v222222222o6v222 ;J?:[email protected], 9K,@P===dK,# [email protected] .',dNmga,..`===|z;|gp [email protected] @D [email protected]=="""@@@m dNQMQQQH3J|[email protected]@p = ,, @@UNDER:HIS:E YES Jc JQXXXXXw6YYddQv2222222222222222222 Ha#@Qya,[email protected]#+ "[email protected][email protected]@pJ#:|aQQq, .3Qa`==,,Jy91b . @@p ,@#! [email protected] [email protected]@m QQ%QQQ%[email protected]@p .=|`= [email protected]@@@P=.'=Q, [email protected]@. @@y | JQ44QXXXUiiuddX222222222o2oo2o222Xo D+... 2Qpdm9,[email protected],[email protected]=0Q,@m,1|JZNJ9?Np,N#mdV"' =||i : [email protected]#@#W @#[email protected]! [email protected] @y QQ%%Q%@m;[email protected]@, ===+^= ,[email protected]@@@@@@@:.''',[email protected]@K @@@@gJ. JdQOTjJi3QOJdQdwX62oXdo22oooooo222d6o [email protected], [email protected]@#9+|j,[email protected]=Ng,y9^29!,J1K ='Qt K |[email protected] ; [email protected]@@j @QDQD y#@@@[email protected]%%%%@[email protected]=,[email protected]@[email protected]@@@@@@@@@@@@#;.''''[email protected] @@@@@@@@[email protected] J#QQJJttddd6tjii33VVUVZx6uuuuYYYoXdVt3 '''..'[email protected]#! ,, QDJD9Q,dD` .,J#! K =JD d' ''.==,||@L @; [email protected]@g,[email protected] ##@@K [email protected]%%%[email protected][email protected]|[email protected]@@@@@@@@@@@@@@@@@;='[email protected]@,[email protected]@@@@@@@#` #44Xvddd4QdjJdXdXmdddxZJdX555PP6dQ6txv ''...=a# m+79mJ|Qt ="12""" [email protected]@e" ''.=,=|;dC [email protected]: [email protected]@g,[email protected]##n @a 0WW%%[email protected]@z="[email protected]@@@@@@@@@@@@@@m="^====J @@@ [email protected]@@@@#@! @O3Qv333QXQjJdV30XXXXXXXXXXwwXXXO6JZxd3 99q,JXd! J#N=JFJIJK |gZ9+ ==9a,'.``=,:|juv= [email protected]: =. [email protected]@@@@[email protected]' @@Q%%%WWRgU&G4Xw5X4QQmdQ,.|@@@@@@@@@@@@@#'[email protected]@@gJ, [email protected]@Q,[email protected]@@#@D @QQggdddtjdUidXddZt33xv200QXXXQVXJZxdddX . 3:==?"='0?"1ad8= ,Ja,. ' `.JqadV?"""|adQya,a,||jgq: [email protected]: = 299! @p @WW%%WWgUmdQwuu5XwP006dUQ, [email protected]@@@@@@@@@@@pJ9"[email protected]@@@@@@#'[email protected]@#QD dQxd3VV3OQdQXddQQQQdkkQ22ddQQ6ZXdv333V0wX 9q,,==..==.=9#P"= @l =9Q.,.=,#+ 39Qg9" 1Qc=?+3U20V^ wuddQc a` [email protected] [email protected], @@@@@@@@@@@@@@a .""` @@@@gQ^[email protected] d! ''..== 0m Jm=Qg#` JH .dI====Qz== dYYood' |+ g @%M0l#@,[email protected],@@@@@@@@@@@@@@@g, .1= [email protected]@@@HQI Qmduujt2vd4XwXXXXwQXtZxvvdXdXXXQdJ3uPuuuPP ; Z Ja,at,J ,, ,J! J#'0m Jgy JU= '='=Nw,|+23Qgn = @D [email protected]@G [email protected]@[email protected]@@@@@@@@@@@@@@@@@[email protected]@@@@@K #Qkk4kmdvdkQQQ36333333dJ360QXXXU3tZZd330w66 #`J9= 0GJB=J#! =?Y,d96a,d! #!.,,,JHP`,qgT= .='.`,[email protected]@I @@c [email protected]@: @@.JQuv||jvv3330QXXuo2Xu|[email protected]@@@@@@@@@@@@@@@@@@@a [email protected]@[email protected] ld' =^ aP Y9Qa 9Q,,,,J#`'=1?1"='.#==38qgaagWTdgXvjdV+ aQQ! [email protected]##l [email protected]=6;=:,::+jv332oo2vjTu|2Qa'[email protected]@@@@@@@@@@@9?"""1?` @#` #dhkhQQ61cc11csszz!!!!!zzu11T3226dtxvxdPPXdd [email protected] JD , J9Qa =`2",.'=,=''' Q====''=''.JKJmwdYL ydQg$ [email protected]@K [email protected]@J=.==,,,:=|[email protected],a##9!., [email protected]@@@@@@#' #QQOQddj1szzzz!!!!!!!!!!!!!!scTjJtt6vvd55wXQx ;=29?= J$ [email protected]; JF '',#= =JQa.=.J#n.=='''.,d#`[email protected];: JR#Q#! [email protected][email protected]@.Q,,[email protected]@ga..===,=:||[email protected] [email protected]@@@@@#[email protected]@@@@@D dQdwVV31cz!!!!!!!!!;;!;;!;;!!!scddiJJtd66306vv ::====,== ,9xjd#! #! ' .=Q:=:''=+=|@E=0y,,,[email protected]`'.,[email protected]#P ==^ @[email protected]@Q,[email protected]@y,.======|[email protected]%@#! [email protected]@@@@@K JXwP6ucsz!!!!!!!!!!;!!;;!;!;;!zs1v1iJJd5Xdddddd ++::::=======JE J3%,.'[email protected],=JdT``JP= .'JD=====|==q#9" @D @[email protected]@G QWR%%@y, |[email protected]@a,[email protected] [email protected]@@@@@@@@@@@KIJQ662Xv!!!;!;;!!;!!;!!;;!;!!!!!!cTXiJddOvv3QwXX6 +++|;:=,Jy8Od!,x;;;,|Nq,,,||2WW+''==,.'''.=`,@K`====,,X' [email protected]@#! [email protected][email protected]#=JRWWWWW%[email protected], "[email protected],="[email protected]@@#Q#:@@@@@@@@@@@@@@K d6vx3v;;;!!;!;;!;!;;!;;!!;!!!!zcTjtvdu62222dXwXm ;===az9" J!,@J,,aaayx=|NA|v|||:'''',0c =''J21J%,===|d%doZ'J%[email protected]' JBq,[email protected]@p OBRRWWWWRQ#BQ. .9NQyJ,="V91+==JQ;[email protected]@@@@@@@@@@H`J6tJjc!!!;;!;!!;!!;!;;!;;!!!zuudtxddYYoYo2vdXw5wQ ``[email protected]#!,aD #!'.==0Qy,==|+:|;=..==.|aaa8`'.=.|[email protected]@@@@m,[email protected]@mn,@H,D' @[email protected]@# [email protected]@m @gqa [email protected]@y,,[email protected]@@@@@@@@@@E oZjijTc!vv;;!;;!;;!;!!;!!!zciJxv22YuPu56o6dXXwPwQ a#9` aO' ,@t==|3+;,|3Aw,=+;;|;,==,a#!=''''',[email protected]@@@@K3x=,QWOmQH K [email protected]#[email protected];[email protected] @UQWWQy, =9NQyJ,[email protected]@@@@@@@@K JXiTii1udv;;!;!;!!;;!!!!zccudv2dP5wXXwwXXXdXww555w ! . J#[email protected]@K|yya;==:,:|:JQo;+|;uoq#9|jc '..ay9dQ`[email protected]@@@Kv|yY=adQQG @m [email protected]@#m @UDOOOOOdJ\[email protected]@a, [email protected]@[email protected]@@@@@@#P ,3juTjJdv;;;!;;!!;!!!!!uTijd22duP5wXXwXXwXww5Xww5u6 ; ''[email protected]#Y|aH3;`=;==:::jX1+JQmd31V6duvj3qodD?` [email protected]@@@@HT,dDd2QE @@Q [email protected]@[email protected]@@@#@cJ0qDU000QJJiK#@,JQQ#[email protected]###@[email protected] ,?"+"=+`=,,,,aJ11T11v;;!!;!!!!!!!zssTjtv22ddXXXwXXwwXwwXwXwXwPPuu ='.J#9= [email protected]==`=,|z,=,|1|;;,=|[email protected]+,ay 0m,JP JD.,;@@@K;|@Buq7' @@@@[email protected]####@@3K [email protected],[email protected]|[email protected]@@@#9JQD ,, ',agdtT31ccc1uz!!!!!;!!!!!zssuiJxo6Yd5XXXXXXXXXXXXXXwwww5PuuY ,g=2; .JK,#:==',JY====,||2+jqa,=2?9q.=;[email protected]@K [email protected]@@@d#XgU+ , [email protected]@@@@@y [email protected]##@@[email protected]@[email protected]+=aH! ,JdUOm.Ja=12uji11Tc1z!z!!!zzzsuuuJZdtZxv2o6wXXXXXXXXXX6JtdXw5wPuuYY JD``==|jvJW'',aD' .=`=;= [email protected]'=1;[email protected]@@, 9Qa,@!,[email protected]@@mg#` Jm @@@@@@@@@@,[email protected]@@[email protected]@[email protected]@[email protected]@aJ6Xvtt1Ti1cssc1iijJtdduuPXXQk4XdXXXXXXXQO6jd3VQXQQ5XuuuY +`=``===j3==J#` ac=,==,[email protected]! [email protected][email protected]@[email protected], 3Ng,[email protected]@#+ J7 dn [email protected]@@@@@@@@@@g,|[email protected],[email protected]",@Um&QdmqQiJd#@m|uYoYdYXdJJtxd22Xodd5PuY66v30XQXXXXXXO6JddXdddvvZdVJ322 =====,==;===T,JP .=. JH' J#!==d: J$=1a,=0%a.3NQy,[email protected]' Jv' J6o @@@@@@@@@@@@@@@gJ."[email protected]@[email protected],@UmyyQJQ0m=JQ#@mz04Qu55PPXdPuuYXdXX4X4X444Q6xdXwXOV6jtddXXwwXwXdQ6Jttd6 ;==,::||;==aa#+.,=='JD aH' JK'JD='.=2vjadQg;|[email protected]#9 == KdX @[email protected]@@@@@@@@@@@@@@@@y,."[email protected]@[email protected]@[email protected],@@06#m=2Q&gQddQXXXX44444444XX44OJdQ3V63JJJdddx3VVVOO3JtdgQ62 |+++++|[email protected]#+ z.;=,aW= @K Jl @E.===,aXXQdQQgg#9' d= = J$dm [email protected]@@@@@@@@@@@@@@@@@@@@g,,="[email protected]@Q=3OQf,[email protected]#9`J##@[email protected],;;3Q&&hQQQh444kk4444Xudjj0Qudd4OJdXXXXXQmdZtZJdV6Z2o v|+;;!v;[email protected]= K =aW' [email protected],,, [email protected]#9= @ Jl0m [email protected]@@@@@@@@@@@@@@@@@@@@@@@@@@@a,,'=?94,0#^[email protected]@9?!=,[email protected]###@do#@k=0oa,|3WQyq&dkhhhQOUUOOOVdQXYdXXmJdQXXXXXXmJdX5wPXdZd s;;;;!;[email protected] JK JK =='.a="""0K [email protected]=J33o5QQ#9" 0. . l0Q.J#@@@@@@@@@@@@@@@@@@@@@@@@@@@@@@[email protected]@[email protected],[email protected]#@[email protected]@###[email protected];|aoX=3;|3OQm&&&&QQQQmdJdQ5XXXXQXttd633Z3VJdP5w5wdwX6 cv;|[email protected] Jl |Q,..,d`'''.Jp ,"=|jqgH9! : 0G o .XVQn [email protected]@@@@@@@@@@@@@@@@@@@@@@@@@@8= gg 3Q,JQV=J#D',[email protected]@#@[email protected]@c,d63m=|aXa=29QQ&GhhkhQdQXXXXXOJJddXX4XdX6jJJJd3V3V6t |v||;;yK Jl . |9NH= '''`[email protected]" .. , c dH: d= Ji=Q. [email protected]@@@@@@@@@@@@@@@@@@@@@@@@F @@@@@@, Nm J9! ,Q#N#9'[email protected]@@[email protected],d;;3m=J0n:|;||3O&QQQd44444XQdtddQXXXX4UJdQQQdgggdZt =v;!!y#: ==..0l.=. JD===...,aa#9"= = J: 3: e dK 0: .6'Jn @@@@@@@@@@@@@@@@@@@@@@@H! [email protected]#9` ,J3a,=w,.== ,==,@##[email protected];j:::2m=Jm;+++|ja;|[email protected] z;!v;3x;===;|Q$,|;,[email protected]|aa9?' Jm s J: |n |. dF m 0= .c Js @@@@@@@@@@@@@@@@@@@@@#! a#! '.0,JQ3Qc.+=' [email protected]@#[email protected]#;==:::Jn=Jmz+++:dm:|u|=2VQQQmdgd44X4QmvddOV3V0OQQ6Jd Qu!;|v+|||jj|Ql=vudQQ##! , H= JK i 0: Q = JD JI 3; s |x |@@@@@@@@@@@@@@@@@@@#= J#!''''' X.+=Jk ,, [email protected]@[email protected]@z|,=:::|m,JQz+++dm::|uv;jj:|2VOQ4QXXXXXQQXXddmddtJdX [email protected]@[email protected]#9` JL n @ Q l @: 4= .a#= D X. J .6: [email protected]@@@@@@@@@@@@@@@@D [email protected]@[email protected] JY=''''''' +JQ J#9,a#[email protected]@[email protected]@m=m,,::,Jm=Jmz+:dm::+d;++vn:jy;;|23OQdQQudQXXXQ0QdXX =|vv3dXddddg#9!= , i I T @. 0c Jl @: Q= .dUI @$ .=J: =i [email protected]@@@@@@@@@@@@@@K\[email protected]@@D|[email protected], =. ' ''JXQ [email protected]#:;[email protected]@@@m,@e=,,,JXo=3Qz:dX:++jX|++3;|Qv::|d;|=|1?OQk44XXxQXX [email protected]?` JK JL L = @c Jl l d: 0: [email protected] @l c Jn 3. [email protected]@@@@@@@@@@@@D=,,[email protected]@@@p j+ ,30f d#=,[email protected][email protected]@@m.Qm;=,,J53o=0Q;JX:::am:+;+v:Jn::;dv:|do;|aa=23VQddX Adgg9! . JK JL c @l Jl G J; 0: d%[email protected] Q. 0; : |@@@@@@@@@@@#'[email protected]#[email protected]@@q [email protected]@@[email protected]% @@m @@T=,,JQ;dm=0cd6:+:Jm:|v+|+jm,::d;::jPz=0n,|:;j,J? #!= , $ =JK JG L Qm Jl d. Jl 0c JNI d%L dL JQ. . [email protected]@@@@@@@@@`[email protected]@@[email protected]@@@[email protected]@a =|. @@@@[email protected]@aQ @@[email protected]=,,JX:|Qo=Xun:::Jm:+|v++jX;::d;++|5x=0m,,:|u,:d , Jn JI = K H id. [email protected]: Jl Jl JK Jl JH [email protected] dL JG . J; [email protected]@@@@@@@I @@m [email protected]@@@@@[email protected]@# J:=:. @@@[email protected]@@@@@[email protected],@@G:=,JX;:JQo=3Q;::Jm:+;s++j2v::d;+:aux|0m,,:Jx::; 0. JG 0 = K H LJc QL $ l JG J$ @I @:QL 0L 0; Jc Q [email protected]@@@@l @[email protected]@@[email protected]@@@[email protected]@` Jr''.: [email protected]@@@@@@@@m, @@m:==Jw;::JQx=0m,:Jm:|juz:jo;::Jx:|oYv:0Q,::J;++: JL JG |. : Q. Q. L 3. @L Q. l Jk JK H JM 0c 0L .JL Ji Qi [email protected]@@K @@@@@@@@y [email protected]@@[email protected]@= r '' .= [email protected]@@@@@@@#@@@[email protected]@P===Jw;:+jooX,|;:|Q:|ujv+JX:::|m:|63o:dm,::je:++ . K l q. ; = Jc dL i : @: Q= G JK @H` @# 0l 0L ;.L dH: J": JQ,[email protected]@@@@@@@@@g [email protected]@ . ' ' = [email protected]@@@@@@@@@@@@@D|J====dx::J6ojuo,;jdo:2Xz:Jm:::|uv|maX;Jk:::|m:++ L K JL JL v Jl dl :=. %L Q: d Jm MI J%@=0K Jc aam7` 0L =Q, @Q [email protected]@@@@@@@@@@@@g,[email protected]` . ' ' [email protected]@@@@@@@@@@@#P @l,====1jja3+|Yi|;=3V|;dm:Jm:::JYv|m|o;|Q:::|X:++ mdG Jc K i Jl dl c |; @c Qc . m Jm J# RB#=0G JG,JY= J#' JL nJ3s @@@@@@@@@@@@@@@@@@mag. | '' ' [email protected]@@@@@@@@@P,@@K=J:==da=|33o|2X++3w;;a2Ye|X;:;Jux|m|o;|3z::|Q:++ 0Qm Jl K c J$ JL n .i @L @L : Q Q d! [email protected];[email protected] [email protected]= d#@ JG Q.,6s @@@@@@@@@@@@@@@@[email protected]@: u` ' ' ' @@@@@@@@[email protected]@@$ Q===JQ+w,=,,,,,,,de,|voX:dx:,|5v|X+u;+de::|P+|| mJK G l : : JK Jl |; n Ql @L L 0. 0 v=JQ????= ,, Q8+ @ JQ dc.,3s @@@@@@@@@@@@@@[email protected]@: r ' ' ' , @@@@@@[email protected]@@#F JQ=`=JQ=Jwm,=|a;::dX::dYe:Ji:,|0:|e|w;:dn,:+6z|| QdK Q= JG = L JK JK ` G dL @L m.JL J. . = c JY' JY Q Jh===,n 3n [email protected]@@@@@@@@@@@[email protected]@= JL ' ' =. @@#[email protected]@@@@B|c.QQ.==JQ=|wu6|a==:|dn::doc:Js:::Jc:n+0;|5n::+dn|; [email protected] Q: ? ,.JI Jl K Q 3 G Jl Jc,I dc 0: Jid` aD: # Jk= c Jc,Q; [email protected]@@@@@@@@@[email protected]@= JI ' ,| [email protected]@@@@@@#",a .0m===JQ;|5|0;dQ;==3T|jddn,Jx::,Jc:x:Jn:dn,::dm|v
Agent1 Code Hunter Program
v0.4
101 Codes, easter eggs scattered throughout the Agent1 universe, website, Twitter, Discord, Emails (and more..) to be found. Each find unlocks 3 more codes for others to find. Earn Agent1 Points that affect your Agent1 NFT polymorph on reveal! See the video that started it all for clues & hints!
For now, you can report your findings on Discord. Soon, you will be able to report here on the website. More features will unlock with time! Keep minting, and grow your Agent1 gang! #AgentsUnite.
| # | Rank # | Agent | Codes Found |
| --- | --- | --- | --- |
| Top Code hunters. | - | - | - |
*Pro tip: Enter a player name in the rectangular Search below to list the codes the Agent has found.
| # | Egg # | Number of Finders | First discovered by | Difficulty | Finders |
| --- | --- | --- | --- | --- | --- |
| List of codes and finders. | - | - | - | - | - |
The Agents before you started their code hunting without any help. With time, they discovered patterns and share these knowledge to help new Agents joining the cause.
Codes usually look like: bruce_lee brad:pitt AGENT1ROCKS happy-303
They range from a difficulty level of 1 to 10. And they come in several type categories.
Normal
These codes can be hunted from various sources. They appear as is, and you enter them to earn Agent1 Points.
Multi-steps
Some codes require multiple steps. You find a clue from one source such as Twitter, then use it to finish another action here on the Agent1 website or another medium, before a code is revealed to you.
Time-based
During certain times, events or specific cooldowns, some codes will be revealed and unlockable to you. For example on the Moon Station in our Discord server, an Agent will play music with clues and codes at random times. Some require you to be at the right place, at the right time. Some call it luck.
Crowd-based
Agent1 is a team, a gang, a family. Some codes are unlocked only when sufficient Agents have found them.
Achievement-based
Not all Agent1 grow and develop the same. Some codes can only be found after the Agent1 Holder reaches certain goals.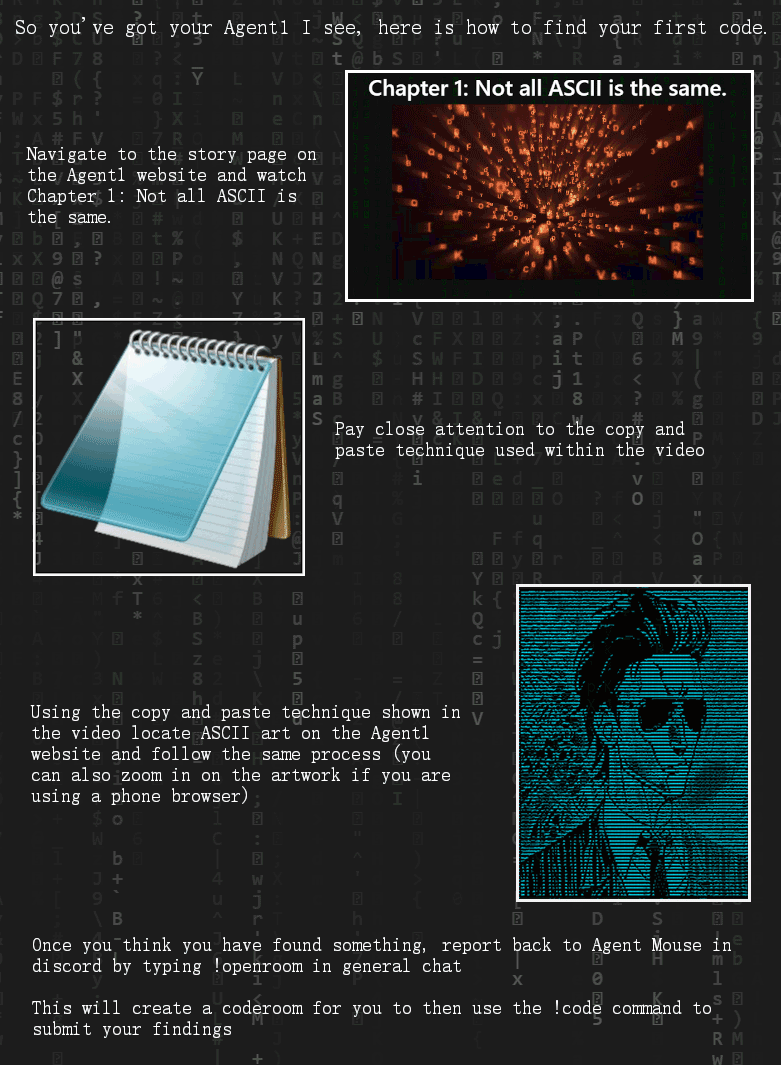 How it works
Every code you find, action you take, every tweet you make with hashtag #AgentsUnite, #A10001 and #Agent1, earns you Agent1 Points. These points affects how your Agent1 NFT polymorphs. Your Agent1 Points affects ALL your Agent1 NFTs! Thus, the more Agent1s you collect, the more effective your Agent1 Points.

If you are the first to find a code, you earn more Agent1 Points, unlock 3 more codes for the community, and enter the Top Agents Hall Of Fame.
XXXXXXXXXXXXXXXXXXXXXXXXXXXXXXXXXXXXXXXXXXXXXXXXXXXXXXXXXXXXXXXXXXXXXXXXXXXXXXXXXXXXXXXXXXXXXXXXXXXXXXXXXXXXXXXXXXXXXXXXXXXXXXXXXXXXXXXXXXXXXXXXXXXXXXXXXXXXXXXXXXXXXXXXXXXXXXXXXXXX XXXXXXXXXXXXXXXXXXXXXXXXXXXXXXXXXXXXXXXXXXXXXXXXXXXXXXXXXXXXXXXXXXXXXXXXXXXXXXXXXXXXXXXXXXXXXXXXXXXXXXXXXXXXXXXXXXXXXXXXXXXXXXXXXXXXXXXXXXXXXXXXXXXXXXXXXXXXXXXXXXXXXXXXXXXXXXXXXXXX XXXXXXXXXXXXXXXXXXXXXXXXXXXXXXXXXXXXXXXXXXXXXXXXXXXXXXXXXXXXXXXXXXXXXXXXXXXXXXXXXXXXXXXXXXXXXXXXXXXXXXXXXXXXXXXXXXXXXXXXXXXXXXXXXXXXXXXXXXXXXXXXXXXXXXXXXXXXXXXXXXXXXXXXXXXXXXXXXXXX XXXXXXXXXXXXXXXXXXXXXXXXXXXXXXXXXXXXXXXXXXXXXXXXXXXXXXXXXXXXXXXXXXXXXXXXXXXXXXXXXXXXXXXXXXXXXXXXXXXXXXXXXXXXXXXXXXXXXXXXXXXXXXXXXXXXXXXXXXXXXXXXXXXXXXXXXXXXXXXXXXXXXXXXXXXXXXXXXXXX XXXXXXXXXXXXXXXXXXXXXXXXXXXXXXXXXXXXXXXXXXXXXXXXXXXXXXXXXXXXXXXXXXXXXXXXXXXXXXXXXXXXXXXXXXXXXXXXXXXXXXXXXXK0OkkkkOOOOOOOOkOKXXXXXXXXXXXXXXXXXXXXXXXXXXXXXXXXXXXXXXXXXXXXXXXXXXXXXXXX XXXXXXXXXXXXXXXXXXXXXXXXXXXXXXXXXXXXXXXXXXXXXXXXXXXXXXXXXXXXXXXXXXXXXXXXXXXXXXXXXXXXXXXXXXXXXXXXXXXKOkkkkkkkkOO0KK0OOOKXK0kxx0XXXXXXXXXXXXXXXXXXXXXXXXXXXXXXXXXXXXXXXXXXXXXXXXXXXXXX XXXXXXXXXXXXXXXXXXXXXXXXXXXXXXXXXXXXXXXXXXXXXXXXXXXXXXXXXXXXXXXXXXXXXXXXXXXXXXXXXXXXXXXXXXXXXK0kkkkkkkOKXXNNNNX0dc;',,,:o0NKkdxKXXXXXXXXXXXXXXXXXXXXXXXXXXXXXXXXXXXXXXXXXXXXXXXXXXXX XXXXXXXXXXXXXXXXXXXXXXXXXXXXXXXXXXXXXXXXXXXXXXXXXXXXXXXXXXXXXXXXXXXXXXXXXXXXXXXXXXXXXXXK0OkkkkkkOKXNNXXXXXXXX0o,.'',,,,..;OXNKxxKXXXXXXXXXXXXXXXXXXXXXXXXXXXXXXXXXXXXXXXXXXXXXXXXXXX XXXXXXXXXXXXXXXXXXXXXXXXXXXXXXXXXXXXXXXXXXXXXXXXXXXXXXXXXXXXXXXXXXXXXXXXXXXXXXXXXNXKOkkkkkO0KXNNXXXXXXXXXXNXk;.....';;''..:KNXXxdKXXXXXXXXXXXXXXXXXXXXXXXXXXXXXXXXXXXXXXXXXXXXXXXXXX XXXXXXXXXXXXXXXXXXXXXXXXXXXXXXXXXXXXXXXXXXXXXXXXXXXXXXXXXXXXXXXXXXXXXXXXXXXXXXXKOkkkkOKXNNXXXXXXXXXXXXXXXXXx'.';,..,;'.;,.'kNXNKdkXXXXXXXXXXXXXXXXXXXXXXXXXXXXXXXXXXXXXXXXXXXXXXXXXX XXXXXXXXXXXXXXXXXXXXXXXXXXXXXXXXXXXXXXXXXXXXXXXXXXXXXXXXXXXXXXXXXXXXXXXXXXXKOkkkk0KNNXXXXXXXXXXXXXXXXXXXXN0;.':c'.....':;..d000KkxKXXXXXXXXXXXXXXXXXXXXXXXXXXXXXXXXXXXXXXXXXXXXXXXXX XXXXXXXXXXXXXXXXXXXXXXXXXXXXXXXXXXXXXXXXXXXXXXXXXXXXXXXXXXXXXXXXXXXXXXXX0kkkk0XNNXXXXXXXXNNXXXXXXXXXXXXXXNx'.,l:..''..;c'.;OK000doKXXXXXXXXXXXXXXXXXXXXXXXXXXXXXXXXXXXXXXXXXXXXXXXXX XXXXXXXXXXXXXXXXXXXXXXXXXXXXXXXXXXXXXXXXXXXXXXXXXXXXXXXXXXXXXXXXXXXXKOkkkOKXXXXXXXXXXXXX00000KXXXXXXXXXXXNk'.,cl'.::';c;.'xXXXN0dkXXXXXXXXXXXXXXXXXXXXXXXXXXXXXXXXXXXXXXXXXXXXXXXXXX XXXXXXXXXXXXXXXXXXXXXXXXXXXXXXXXXXXXXXXXXXXXXXXXXXXXXXXXXXXXXXXXXXOxxkOXNNXXXXXXXXNXK00O0KKXXXXXXXXXXXXXXXKo..;lc'';::;.;kXXNXOdOXXXXXXXXXXXXXXXXXXXXXXXXXXXXXXXXXXXXXXXXXXXXXXXXXXX XXXXXXXXXXXXXXXXXXXXXXXXXXXXXXXXXXXXXXXXXXXXXXXXXXXXXXXXXXXXXXX0kkk0XNXXXXXXXXNXK0O000XXXXXXXXXXXXXXXXXXNXXXkc;,,..',,;dKNXNKxxKXXXXXXXXXXXXXXXXXXXXXXXXXXXXXXXXXXXXXXXXXXXXXXXXXXXX XXXXXXXXXXXXXXXXXXXXXXXXXXXXXXXXXXXXXXXXXXX[email protected]Open:sesame;kOKXOdkXXXXXXXXXXXXXXXXXXXXXXXXXXXXXXXXXXXXXXXXXXXXXXXXXXXXXX XXXXXXXXXXXXXXXXXXXXXXXXXXXXXXXXXXXXXXXXXXXXXXXXXXXXXXXXXX0doxKXXXXXXXXXXKOOOO0XNNXXXXXXXXXXXXXK0Oxdolc::;;,''''''''...'':dk0XXXXXXXXXXXXXXXXXXXXXXXXXXXXXXXXXXXXXXXXXXXXXXXXXXXXXXX XXXXXXXXXXXXXXXXXXXXXXXXXXXXXXXXXXXXXXXXXXXXXXXXXXXXXXXXOdlldOXXXXXXNXKOOOO0XNXXXXNNXXXXKOOkdlc;,'.....''''''''''''''''''.:KXXXXXXXXXXXXXXXXXXXXXXXXXXXXXXXXXXXXXXXXXXXXXXXXXXXXXXXX XXXXXXXXXXXXXXXXXXXXXXXXXXXXXXXXXXXXXXXXXXXXXXXXXXXXXXOdlodxxxk0KXX0kxxk0KKKKKKK000Okdl:;,''...''''''''''''''''''''..''''.'xXXXXXXXXXXXXXXXXXXXXXXXXXXXXXXXXXXXXXXXXXXXXXXXXXXXXXXXX XXXXXXXXXXXXXXXXXXXXXXXXXXXXXXXXXXXXXXXXXXXXXXXXXXXXKxooxxdxxxxddodoodxxxxxxxxxdl:;,'...''''''''''''''.''',,;;;::::::cccclcoKXXXXXXXXXXXXXXXXXXXXXXXXXXXXXXXXXXXXXXXXXXXXXXXXXXXXXXX XXXXXXXXXXXXXXXXXXXXXXXXXXXXXXXXXXXXXXXXXXXXXXXXXXX0doxxxxxxdolllodxxxxddxxdl:;'...'''''''''''..',,;:::cclloddxxxdddooollocl0NXXXXXXXXXXXXXXXXXXXXXXXXXXXXXXXXXXXXXXXXXXXXXXXXXXXXXX XXXXXXXXXXXXXXXXXXXXXXXXXXXXXXXXXXXXXXXXXXXXXXXXXXKxoxdxxxdollodxdxxdxxdl:,'...''''''''..'',;;;:clodddddollcc:::;;;,,''''..,okKXXXXXXXXXXXXXXXXXXXXXXXXXXXXXXXXXXXXXXXXXXXXXXXXXXXXX XXXXXXXXXXXXXXXXXXXXXXXXXXXXXXXXXXXXXXXXXXXXXXXXXN0ooxxdxxoloxxxxddxdc;'.....'''''.',,;;:ccloddollcc::;,''.....'''''''''''''.';lxOXXXXXXXXXXXXXXXXXXXXXXXXXXXXXXXXXXXXXXXXXXXXXXXXXX XXXXXXXXXXXXXXXXXXXXXXXXXXXXXXXXXXXXXXXXXXXXXXXXXXXOooxxdxxxxxxxxdl;'..........',;::lodoolcc::;,''....'''''''''''''''''''''''''..,:okKXXXXXXXXXXXXXXXXXXXXXXXXXXXXXXXXXXXXXXXXXXXXXX XXXXXXXXXXXXXXXXXXXXXXXXXXXXXXXXXXXXXXXXXXXXXXXXXXXXKxdodxxxxxdo:'.........',;;codocc::;,'....'''''''''''''''''''''''''''''''''''''.';ld0XXXXXXXXXXXXXXXXXXXXXXXXXXXXXXXXXXXXXXXXXXX XXXXXXXXXXXXXXXXXXXXXXXXXXXXXXXXXXXXXXXXXXXXXXXXXK0OOkoc:cloodl'.......';;:looc::;'....'''''''''''''''''''''''''''''''''''''''''''''''..,lkKXXXXXXXXXXXXXXXXXXXXXXXXXXXXXXXXXXXXXXXX XXXXXXXXXXXXXXXXXXXXXXXXXXXXXXXXXXXXXXXXXXXXXXX0kOOkdc;;,,,;cdl.....;:cldoc:;'...........'''''''''''''''''''''''''''''''''''''''''''''''..'oKXXXXXXXXXXXXXXXXXXXXXXXXXXXXXXXXXXXXXXX XXXXXXXXXXXXXXXXXXXXXXXXXXXXXXXXXXXXXXXXXXXXX0xk00Oo;,,''''',lx:.;clooc:;;;;cllc;,...................''''''''''''''''''''''''''''''......,lOXXXXXXXXXXXXXXXXXXXXXXXXXXXXXXXXXXXXXXXX XXXXXXXXXXXXXXXXXXXXXXXXXXXXXXXXXXXXXXXXXXXXOx0Xkdooc:::::;,'';;,loc:cloxOXNNNNNXklloolc:;;;,,................................''.,;;:loxxdookKXXXXXXXXXXXXXXXXXXXXXXXXXXXXXXXXXXXXXX XXXXXXXXXXXXXXXXXXXXXXXXXXXXXXXXXXXXXXXXNXNOx0KxloO0kollcccc:,,'.'cld0NWNNNNNNNOddOKKKKKK0Okdlc:::ccc;,:loddol;;cc:;;,,;:llcoc;:,cddxkkOxxO0xxKNXXXXXXXXXXXXXXXXXXXXXXXXXXXXXXXXXXXX XXXXXXXXXXXXXXXXXXXXXXXXXXXXXXXXXXXXXXXXNNOd0KdcxKKK0dlllllclc;. .lxxOXNNNNNNKxdOKKKKKKOdllclodddddddlcxK0KKK0l:dollol:dkkxdo:,,;:cloxkOOdxXNkdXXXXXXXXXXXXXXXXXXXXXXXXXXXXXXXXXXXXX XXXXXXXXXXXXXXXXXXXXXXXXXXXXXXXXXXXXXXXNN0d0N0dxK0kkkdlc:::cccc, .cxxk0XXXXXOox0KKKKKkolldddddddxxxxxdcdKKKKKx::odxxxdld0Kko:;:;:cccllokXXxxK0oONXXXXXXXXXXXXXXXXXXXXXXXXXXXXXXXXXXX XXXXXXXXXXXXXXXXXXXXXXXXXXXXXXXXXXXXXXXN0d0NKxdOkkO0KOxolc:;;:::,.;dxkOKKKKOldKKKKKOdlldxxxxxxxxxxxxxxooO000Oocdddddxxdok0xc:ccccll::lodOKOlxOoxXKKKKKKKKKKKKKKKKKKKKKKKKKKKKKKKKKKK XXXXXXXXXXXXXXXXXXXXXXXXXXXXXXXXXXXXXXNKxONXOoxkkKKK0kxdoc::ccllo:;oxkO0KK0olOKKK0kllodddxxxxxddoolllllcodxxoclolloollllloollodddxxxodkOOOkdxkdk0OOOOOOOOOOOOOOOOOOOOOOOOOOOOOOOOOOO XXXXXXXXXXXXXXXXXXXXXXXXXXXXXXXXXNNNNNXxONNXkdO0KKKK0Oko::llllllol:lxkkO0KOlo0K0KOc,;coxxkkkxolcloodddoooddddddddddxxddddddxxkkkkkkkkkO00OkkOOkO0OOOOOOOOOOOOOOOOOOOOOOOOOOOOOOOOOOO XXXXXXXXXXXXXXXXXXXXXXXXXXXXXXXXXXXXXNKx0WKkdoOKKKKK0Oxcldoolllloo:cxkkO00OolOK0KKOxolldxOO00Okxdoooc:::::::;;;cloooooloolloooddddxdodO0OxdOkdx0OOOOOOOOOOOOOOOOOOOOOOOOOOOOOOOO0000 XXXXXXXXXXXXXXXXXXXXXXXXXXXXXXXXXXXXXNXxOWKdloOKKKK00Oocdddoolllooc:dkkO00OxloOKKK0KK0kxlcllooollol;',;:::lool:;::clodxdllddoooddxxolkXKxxKXxxXXXXXXXXXXXXXXXXXXXXXXXXXXXXXXXXXXXXXX XXXXXXXXXXXXXXXXXXXXXXXXXXXXXXXXXXXXXXNOxKXxllkKKK000Oolxxddoollooc;okkOO0OkxdodxOO000kdxO00000Okko:;:ldxxxkxc,;loddxxxdoolllooddxolxKOdkXKdxXNXXXXXXXXXXXXXXXXXXXXXXXXXXXXXXXXXXXXX XXXXXXXXXXXXXXXXXXXXXXXXXXXXXXXXXXXXXXNKxkXkocoO000000xldxxddooool:,lkkOO000OOkxddddxdcdkdolodxO0KKKOkO0KKKKOxc:x00kdodxkOklcoddxdoxOxx0XkdOXXXXXXXXXXXXXXXXXXXXXXXXXXXXXXXXXXXXXXXX XXXXXXXXXXXXXXXXXXXXXXXXXXXXXXXXXXXXXXXN0dkOxoldO000OOOdodxddoooccc;cxkOO0KXKK000000Kklodc:;'..',;coxOKKKKKK0kclxl,.....;o0k:coodxxddk0kdkKXXXXXXXXXXXXXXXXXXXXXXXXXXXXXXXXXXXXXXXXX XXXXXXXXXXXXXXXXXXXXXXXXXXXXXXXXXXXXXXXXNOooxkocokOOOOOOxxxxdol:coo;cxkkO0KXNNNXXXXNXklcllllc;;,,,;clodO0KKKOo:c,....',:oxxl:clodoodxxdkKXXXXXXXXXXXXXXXXXXXXXXXXXXXXXXXXXXXXXXXXXXX XXXXXXXXXXXXXXXXXXXXXXXXXXXXXXXXXXXXXXXXXNOloxxolldkOOkkkkxdolcooo:':xkkO0KXXNNNNNNNXOxol:;,. ..;d00xox0KKkc:ldxoc:;:oxxo:lxdooodddOXNXXXXXXXXXXXXXXXXXXXXXXXXXXXXXXXXXXXXXXXXXXXX XXXXXXXXXXXXXXXXXXXXXXXXXXXXXXXXXXXXXXXXXXX0oldxkxoooddxxxxdoollc:..:xxkO0KXXXNNNNNXKkollllc;;;cokO0K0KOdOKKo,lOK00Oxo::kK0l;clooodOXXXXXXXXXXXXXXXXXXXXXXXXXXXXXXXXXXXXXXXXXXXXXXXX XXXXXXXXXXXXXXXXXXXXXXXXXXXXXXXXXXXXXXXXXXXNKxlldxkkxdoooooolllll:..lxxkOO0KXXXNKOkxddxkO0000000000K00KK00KKo;dKKKK0kkOxokKo;coox0XXXXXXXXXXXXXXXXXXXXXXXXXXXXXXXXXXXXXXXXXXXXXXXXXX XXXXXXXXXXXXXXXXXXXXXXXXXXXXXXXXXXXXXXXXXXXXXXKkxxddddddxxxdoododdc;oxxkO0KXXXKkxdoxxxxxxxxxk0KK0xkkdOKKKKKKOcl0KKKKOxOKOdxocdOKNXXXXXXXXXXXXXXXXXXXXXXXXXXXXXXXXXXXXXXXXXXXXXXXXXXX XXXXXXXXXXXXXXXXXXXXXXXXXXXXXXXXXXXXXXXXXXXXXXXXNXXKK0000000000KXXkokkxkOKXXKkxk00kkkkO000OkxOKK000kx0KKKKKKKklxKKK0KK0KK0Ool0NXXXXXXXXXXXXXXXXXXXXXXXXXXXXXXXXXXXXXXXXXXXXXXXXXXXXX XXXXXXXXXXXXXXXXXXXXXXXXXXXXXXXXXXXXXXXXXXXXXXXXXXXXXXXXXXXXXXXXNXdk0xxk0KXOdk0xollllllooddk0K0KKKKKKKKKKKK0KOco0KKKKKKK0KK0kdkKXXXXXXXXXXXXXXXXXXXXXXXXXXXXXXXXXXXXXXXXXXXXXXXXXXXX XXXXXXXXXXXXXXXXXXXXXXXXXXXXXXXXXXXXXXXXXXXXXXXXXXXXXXXXXXXXXXXXN0d0KkxkKKkdOOd:;ldddolddlcccokKKKKKKKKKKKKKKk:cOKKKKKKK0KKKK0xx0XXXXXXXXXXXXXXXXXXXXXXXXXXXXXXXXXXXXXXXXXXXXXXXXXXX XXXXXXXXXXXXXXXXXXXXXXXXXXXXXXXXXXXXXXXXXXXXXXXXXXXXXXXXXXXXXXXXNkxXXkdOKkoOkdOkx0Ox::dx0000OxxxxOKKKKKKKKKKKOc:kKKKKKKKKKKKKKKOdkXXXXXXXXXXXXXXXXXXXXXXXXXXXXXXXXXXXXXXXXXXXXXXXXXX XXXXXXXXXXXXXXXXXXXXXXXXXXXXXXXXXXXXXXXXXXXXXXXXXXXXXXXXXXXXXXXNKxOWKolO0ox0odNN00NWxdXNWMMMMMWXOkdx0KKK0KKKK0l;xK0KKKKKKKKKKKKK0dxKXXXXXXXXXXXXXXXXXXXXXXXXXXXXXXXXXXXXXXXXXXXXXXXX XXXXXXXXXXXXXXXXXXXXXXXXXXXXXXXXXXXXXXXXXXXXXXXXXXXXXXXXXXXXXXXNOx0NKdlOOokKc:KMWNWMOlOWMMMMMMMMMNdokxk00KKOkd;;xO00KKKKKKKKK0KKK0dxXXXXXXXXXXXXXXXXXXXXXXXXXXXXXXXXXXXXXXXXXXXXXXXX XXXXXXXXXXXXXXXXXXXXXXXXXXXXXXXXXXXXXXXXXXXXXXXXXXXXXXXXXXXXXXXXkxOK0ooOko00:,xNMMMWkox0WMMMMMMMW0dkKKOxodk00OxdxkO000KK0KKKKKKKKKkd0NXXXXXXXXXXXXXXXXXXXXXXXXXXXXXXXXXXXXXXXXXXXXXX XXXXXXXXXXXXXXXXXXXXXXXXXXXXXXXXXXXXXXXXXXXXXXXXXXXXXXXXXXXXXXNKxdOXkld0xo00c';lXMW0x0N0O00KKK0kkO00O00OxdxxddddxxxxxxxxxkxxxkOKKKOdONXXXXXXXXXXXXXXXXXXXXXXXXXXXXXXXXXXXXXXXXXXXXXX XXXXXXXXXXXXXXXXXXXXXXXXXXXXXXXXXXXXXXXXXXXXXXXXXXXXXXXXXXXXXXN0d:lKx:oOkoOKx::co00odKWMWXKKKKkdKWWWMMMMMMMWXKo:xOkkkOkxl::ldxOKK0xd0XXXXXXXXXXXXXXXXXXXXXXXXXXXXXXXXXXXXXXXXXXXXXXX XXXXXXXXXXXXXXXXXXXXXXXXXXXXXXXXXXXXXXXXXXXXXXXXXXXXXXXXXXXXXXNOo:.od:cddcd00Oxdlcccclddddddxd:cdxxxkOOO000Okxc:dkkOOOOOkk0KKKK0xdx0XXXXXXXXXXXXXXXXXXXXXXXXXXXXXXXXXXXXXXXXXXXXXXXX XXXXXXXXXXXXXXXXXXXXXXXXXXXXXXXXXXXXXXXXXXXXXXXXXXXXXXXXXXXXXXNxok,.:::c:;cddddxkkkkkkkxxxdddddddooddxxkkkkkkxkkkkkOOOOkxO0K00koo0XXXXXXXXXXXXXXXXXXXXXXXXXXXXXXXXXXXXXXXXXXXXXXXXXX XXXXXXXXXXXXXXXXXXXXXXXXXXXXXXXXXXXXXXXXXXXXXXXXXXXXXXXXXXXXXXKdxNl .;cl'.;lkkdooddddxxkO0KKKKKKKKK0kxxdl:coddxxxxoc:lodk0KKKkldKXXXXXXXXXXXXXXXXXXXXXXXXXXXXXXXXXXXXXXXXXXXXXXXXXXX XXXXXXXXXXXXXXXXXXXXXXXXXXXXXXXXXXXXXXXXXXXXXXXXXXXXXXXXXXXXXXX0KNx..,ld, ':lOKKKKKKKKKKKK0KKKKKKKK0Okkxlok0KKKK0KKOxk0KKKKKkoxKXXXXXXXXXXXXXXXXXXXXXXXXXXXXXXXXXXXXXXXXXXXXXXXXXXXX XXXXXXXXXXXXXXXXXXXXXXXXXXXXXXXXXXXXXXXXXXXXXXXXXXXXXXXXXXXXXXXXXNk;;cld: ,:lk0KKKKKKKKKKKK0KKKKKKKKKK00KKKK0kOxx0KKKKKKK0xokXXXXXXXXXXXXXXXXXXXXXXXXXXXXXXXXXXXXXXXXXXXXXXXXXXXXXX XXXXXXXXXXXXXXXXXXXXXXXXXXXXXXXXXXXXXXXXXXXXXXXXXXXXXXXXXXXXXXXXXNkdkkdol. .,,:dO0KKKKKKKKKKKKKKKKKKKKKKKKKKKOlxkdOKKKKKOxdx0XXXXXXXXXXXXXXXXXXXXXXXXXXXXXXXXXXXXXXXXXXXXXXXXXXXXXXX XXXXXXXXXXXXXXXXXXXXXXXXXXXXXXXXXXXXXXXXXXXXXXXXXXXXXXXXXXXXXXXXXNxxXX0x:::,,;::cdk00KKKKKKKKKKKKKKKKKKKKKKKK0O0000000xddx0XXXXXXXXXXXXXXXXXXXXXXXXXXXXXXXXXXXXXXXXXXXXXXXXXXXXXXXXX XXXXXXXXXXXXXXXXXXXXXXXXXXXXXXXXXXXXXXXXXXXXXXXXXXXXXXXXXXXXXXXXXNxxNNXKocdxolllc:clxOkdOKKKKKKKKKKKKKKKKKKKKKK00OkdoodkKXXXXXXXXXXXXXXXXXXXXXXXXXXXXXXXXXXXXXXXXXXXXXXXXXXXXXXXXXXX XXXXXXXXXXXXXXXXXXXXXXXXXXXXXXXXXXXXXXXXXXXXXXXXXXXXXXXXXXXXXXXXNXdxWWNK0kO0kdllllc::cccoxkkkOOOOOOOOOOOOOOOkxxoooodkKXXXXXXXXXXXXXXXXXXXXXXXXXXXXXXXXXXXXXXXXXXXXXXXXXXXXXXXXXXXXXX XXXXXXXXXXXXXXXXXXXXXXXXXXXXXXXXXXXXXXXXXXXXXXXXXXXXXXXXXXXXXXXXNXdkWWXKK00K0kollllllc:::ccloollloloooooooooddxxOKXXXXXXXXXXXXXXXXXXXXXXXXXXXXXXXXXXXXXXXXXXXXXXXXXXXXXXXXXXXXXXXXXX XXXXXXXXXXXXXXXXXXXXXXXXXXXXXXXXXXXXXXXXXXXXXXXXXXXXXXXXXXXXXXXXNKdOWWXKKKKK0kdolollccccclodkOxlk0OOOO0000KKXXXXXXXXXXXXXXXXXXXXXXXXXXXXXXXXXXXXXXXXXXXXXXXXXXXXXXXXXXXXXXXXXXXXXXXX XXXXXXXXXXXXXXXXXXXXXXXXXXXXXXXXXXXXXXXXXXXXXXXXXXXXXXXXXXXXXXXXNKoOWNXKKKKK0kdoooollcccclodkkdo0NXXXXXXXXXXXXXXXXXXXXXXXXXXXXXXXXXXXXXXXXXXXXXXXXXXXXXXXXXXXXXXXXXXXXXXXXXXXXXXXXXX XXXXXXXXXXXXXXXXXXXXXXXXXXXXXXXXXXXXXXXXXXXXXXXXXXXXXXXXXXXXXXXXNOo0WNXKKKK0OxoollollllllodxkkdoKNXXXXXXXXXXXXXXXXXXXXXXXXXXXXXXXXXXXXXXXXXXXXXXXXXXXXXXXXXXXXXXXXXXXXXXXXXXXXXXXXXX XXXXXXXXXXXXXXXXXXXXXXXXXXXXXXXXXXXXXXXXXXXXXXXXXXXXXXXXXXXXXXXXNxdXWNXKKKKOkdolllllllllldkO0KxoKNXXXXXXXXXXXXXXXXXXXXXXXXXXXXXXXXXXXXXXXXXXXXXXXXXXXXXXXXXXXXXXXXXXXXXXXXXXXXXXXXXX XXXXXXXXXXXXXXXXXXXXXXXXXXXXXXXXXXXXXXXXXXXXXXXXXXXXXXXXXXXXXXXN0oOWWNKKKK0OxdllllllllllldkOKXOoONXXXXXXXXXXXXXXXXXXXXXXXXXXXXXXXXXXXXXXXXXXXXXXXXXXXXXXXXXXXXXXXXXXXXXXXXXXXXXXXXXX XXXXXXXXXXXXXXXXXXXXXXXXXXXXXXXXXXXXXXXXXXXXXXXXXXXXXXXXXXXXXXNXxkNWWNKKKK0kxollcclllcccloxOKXKoxNXXXXXXXXXXXXXXXXXXXXXXXXXXXXXXXXXXXXXXXXXXXXXXXXXXXXXXXXXXXXXXXXXXXXXXXXXXXXXXXXXX XXXXXXXXXXXXXXXXXXXXXXXXXXXXXXXXXXXXXXXXXXXXXXXXXXXXXXXXXXXXXXXkxXWWWXKKKK0kxollcccccccclodx0KXOd0NXXXXXXXXXXXXXXXXXXXXXXXXXXXXXXXXXXXXXXXXXXXXXXXXXXXXXXXXXXXXXXXXXXXXXXXXXXXXXXXXX XXXXXXXXXXXXXXXXXXXXXXXXXXXXXXXXXXXXXXXXXXXXXXXXXXXXXXXXXXXXNXxxXWWWNXKKKK0kxolcccccccccclodOKXXkdKNXXXXXXXXXXXXXXXXXXXXXXXXXXXXXXXXXXXXXXXXXXXXXXXXXXXXXXXXXXXXXXXXXXXXXXXXXXXXXXXX XXXXXXXXXXXXXXXXXXXXXXXXXXXXXXXXXXXXXXXXXXXXXXXXXXXXXXXXXXXkllxXWWWWNKKKKK0Oxollcccccccccclox0KXXkdO0KXXXXXXXXXXXXXXXXXXXXXXXXXXXXXXXXXXXXXXXXXXXXXXXXXXXXXXXXXXXXXXXXXXXXXXXXXXXXXX XXXXXXXXXXXXXXXXXXXXXXXXXXXXXXXXXXXXXXXXXXXXXXXXXXXXXXXXNXx,;ONWWWWNXKKKKK0OxolccccccccccclloxOKXXOl;;lOXXXXXXXXXXXXXXXXXXXXXXXXXXXXXXXXXXXXXXXXXXXXXXXXXXXXXXXXXXXXXXXXXXXXXXXXXXXX XXXXXXXXXXXXXXXXXXXXXXXXXXXXXXXXXXXXXXXXXXXXXXXXXXXXNX0xo:..dXWWNXXKKKKKKK0kxolccccccccccccclldk0KXKd..'dKNXXXXXXXXXXXXNXXXXXXXXXXXXXXXXXXXXXXXXXXXXXXXXXXXXXXXXXXXXXXXXXXXXXXXXXXXX XXXXXXXXXXXXXXXXXXXXXXXXXXXXXXXXXXXXXXXXXXXXXXXXK0kdl:'......;oxxOOOO00000Okxdolcccccccccccccccloxxo;....:dxO0XXXXXXXXXNXXXXXXXXXXXXXXXXXXXXXXXXXXXXXXXXXXXXXXXXXXXXXXXXXXXXXXXXXXXX XXXXXXXXXXXXXXXXXXXXXXXXXXXXXXXXXXXXXXXXXXXKOxoc;'..............,cok0KXXXXXKK0OOkxdolllllcccc:;;,,...........,;codk0XXNNXXXXXXXXXXXXXXXXXXXXXXXXXXXXXXXXXXXXXXXXXXXXXXXXXXXXXXXXXXXX XXXXXXXXXXXXXXXXXXXXXXXXXXXXXXXXXXXXXXKkdl:,'.......................,:clooodddddxdolc:;,,'''.......................,:cdOKXXXXXXXXXXXXXXXXXXXXXXXXXXXXXXXXXXXXXXXXXXXXXXXXXXXXXXXXXXX XXXXXXXXXXXXXXXXXXXXXXXXXXXXXXXNXXXKkl,.................................................................................:kXNNXNNXXXXXXXXXXXXXXXXXXXXXXXXXXXXXXXXXXXXXXXXXXXXXXXXXXXX XXXXXXXXXXXXXXXXXXXXXXXXXXXXXXXNNKx;.....................................................................................'oXNXNNXXXXXXXXXXXXXXXXXXXXXXXXXXXXXXXXXXXXXXXXXXXXXXXXXXXX XXXXXXXXXXXXXXXXXXXXXXXXXXXXXXNNO:.........................................................................................oXXXXXXXXXXXXXXXXXXXXXXXXXXXXXXXXXXXXXXXXXXXXXXXXXXXXXXXX XXXXXXXXXXXXXXXXXXXXXXXXXXXXXXXx'..........................................................................................,kNXXXXXXXXXXXXXXXXXXXXXXXXXXXXXXXXXXXXXXXXXXXXXXXXXXXXXX XXXXXXXXXXXXXXXXXXXXXXXNXXNNNXd.............................................................................................lXXXXXXXXXXXXXXXXXXXXXXXXXXXXXXXXXXXXXXXXXXXXXXXXXXXXXXX XXXXXXXXXXXXXXXXXXXXXXXXXXXNKl..............................................................................................,ONXXXXXXXXXXXXXXXXXXXXXXXXXXXXXXXXXXXXXXXXXXXXXXXXXXXXX XXXXXXXXXXXXXXXXXXXXXXXXXXXKc................................................................................................dXXXXXXXXXXXXXXXXXXXXXXXXXXXXXXXXXXXXXXXXXXXXXXXXXXXXXX XXXXXXXXXXXXXXXXXXXXXXXXXXXo.................................................................................................cKXXXXXXXXXXXXXXXXXXXXXXXXXXXXXXXXXXXXXXXXXXXXXXXXXXXXX XXXXXXXXXXXXXXXXXXXXXXXXXXx'.................................................................................................'kXXXXXXXXXXXXXXXXXXXXXXXXXXXXXXXXXXXXXXXXXXXXXXXXXXXXX XXXXXXXXXXXXXXXXXXXXXXXXXk,...................................................................................................lXXXXXXXXXXXXXXXXXXXXXXXXXXXXXXXXXXXXXXXXXXXXXXXXXXXXX XXXXXXXXXXXXXXXXXXXXXXXXKc............................................................................................. ......,ONXXXXXXXXXXXXXXXXXXXXXXXXXXXXXXXXXXXXXXXXXXXXXXXXXXX XXXXXXXXXXXXXXXXXXXXXXXNk'............................................................................................. .......xXXXXXXXXXXXXXXXXXXXXXXXXXXXXXXXXXXXXXXXXXXXXXXXXXXXX